Premijer Duško Marković, njegova supruga Nata, sin Predrag i kćerka Valentina Marković u Crnoj Gori posjeduju oko 10.600 kvadrata nekretnina ukupne vrijednosti 815.000 eura.
To je pokazalo istraživanje Mreže za istraživanje organizovanog kriminala i korupcije – Lupa.
Samo premijer posjeduje stan, dio kuće i zemlju vrijednosti oko 315.000 eura.
U podacima Uprave za nekretnine može se vidjeti da  Marković ima nasljeđe u mjestu (katastarskoj opštini) Rovačko Trebaljevo kod Kolašina.
Radi se o dijelu pašnjaka od 1.328 m2, vrijednosti oko 15.000 eura (cijena po podacima agencija za nekretnine). U njegovom rodnom mjestu Podbišće vodi se kao vlasnik jedne četvrtine nekretnina (kuća, pašnjak, livade, šume) od ukupno 25.822 m2 (6.509 m2). Prema podacima agencija za nekretnine nasljeđe premijera  u Podbišću vrijedi oko 140.000 eura.
Premijer posjeduje u Podgorici i stan od 106 kvadrata i garažu od 14 m2 u zgradi Maksima, vrijednosti oko 160.000 eura.
Na stanu Duška Markovića upisana je hipoteka zbog duga za kredit od 20.000 eura, koji je uzet kod CKB banke.
Njegova supruga Nata u Crnoj Gori ima imovinu vrijednu oko 120.000 eura.
Radi se o porodičnoj kući i oko 2.000 kvadrata zemljišta, vrijednosti oko 50.000 eura. Te nekretnine nalaze se nedaleko od Zavoda za izvršenje krivičnih sankcija (ZIKS) u Spužu.
Nata Marković ima imovinu i na Žabljaku – vikendicu od 89 m2 i parcelu 324 m2, vrijednosti oko 70.000 eura, kod hotela Gorske oči.
Osnov sticanja nepokretnosti na Žabljaku je kupovina i građenje. Prema podacima Agencije za spriječavanje korupcije (ASK) Markovićeva je zaposlena u Agenciji za telekomunikacije, gdje prima platu od 1.093 eura.
Dvoje djece stambeno obezbijeđeno
Dvoje od troje djece premijera su stambeno obezbijeđeni.
Njegov stariji sin Predrag Marković je zaposlen u Kontroli letenja Srbije i Crne Gore (SMATSA). U Podgorici posjeduje stan od 53 kvadrata i poslovni prostor od 102 m2, koje je stekao kupovinom.
Stan Predraga Markovića, koji se nalazi u Bloku 5, vrijedi skoro 60.000 eura, dok se njegov poslovni prostor nalazi u Siti kvartu, preko puta Delta sitija, i cijeni se oko 160.000 eura. Na poslovnom prostoru je upisana hipoteka zbog kredita od 50.000 eura, kod Societe Generale banke.
Njegova sestra Valentina Marković zaposljena je u Centralnoj banci Crne Gore (CBCG).
Ima imovinu u Podgorici. Riječ je o kupljenom stanu od 42 m2 i garaži u zgradi Maksima, vrijednim oko 60.000 eura.
Na toj imovini upisana je i hipoteka zbog kredita od 20.000 eura kod CKB banke. Pored te imovine Valentina Marković ima još jedan stan od 86 kvadrata, koji je stečen kupovinom a koji se nalazi u Siti kvartu, preko puta Delta sitija. Vrijednost tog stana premijerove kćerke procjenjuje se na oko 100.000 eura.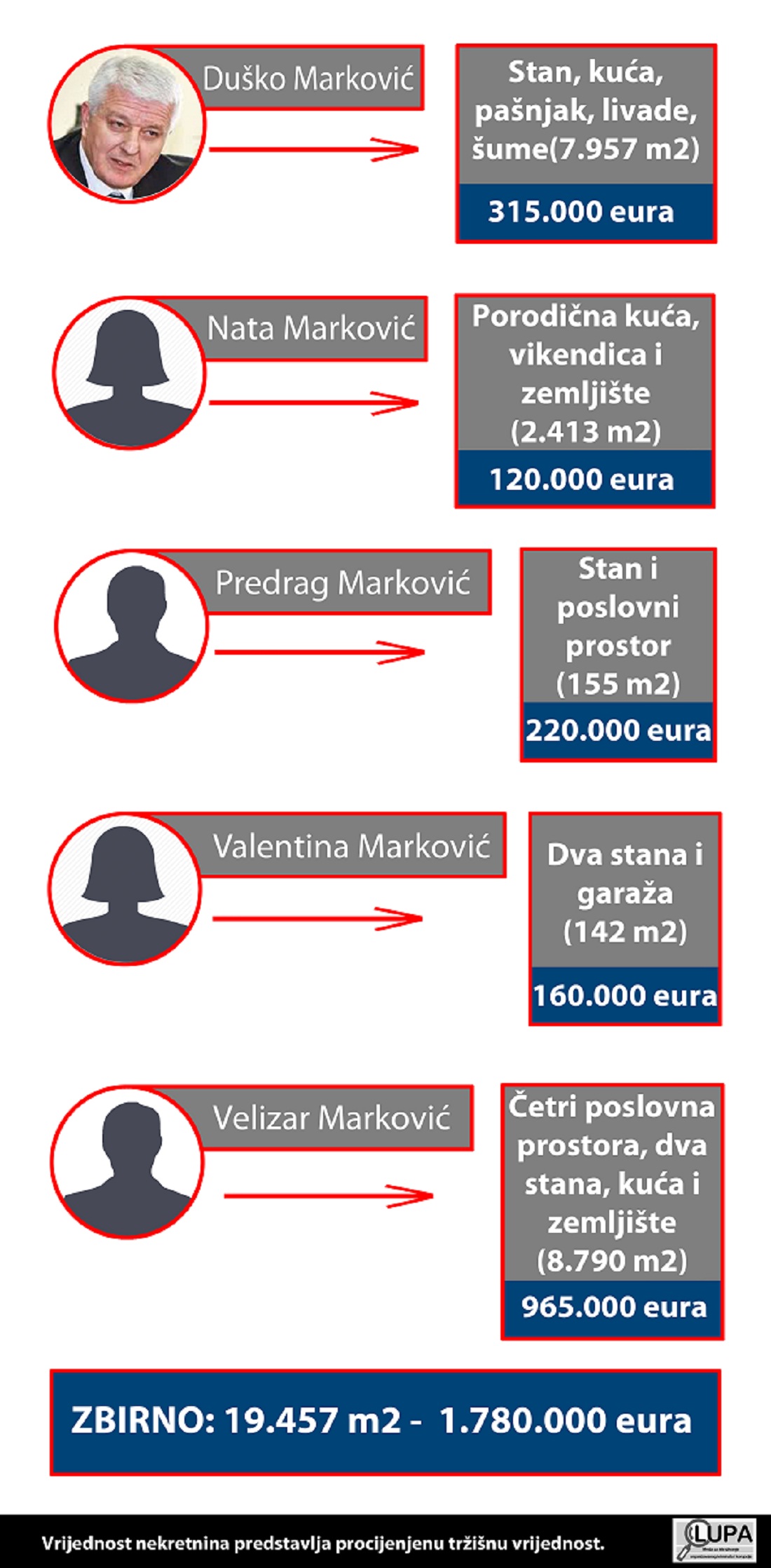 Prema podacima Uprave za nekretnine, najmlađi sin premijera Nikola Marković nema nepokretnu imovinu.
Novinari Lupe pokušali su od Duška Markovića da dobiju odgovor da li je sa svojom suprugom pomogao da njegova djeca obezbijede nepokretnu imovinu i da li su njegove pozicije na čelnim funkcijama u državi uticale, na bilo koji način, da članovi njegove porodice steknu zaposlenje. Odgovor, međutim nije stigao do zaključenja istraživanja, iako su pitanja Vladi Crne Gore proslijeđena prije nedjelju dana.
Jedan od njegove braće Velizar Marković, zvani Marče, u Crnoj Gori posjeduje nepokretnosti vrijedne gotovo milion eura.
Velizar Marković u centru Mojkovca prije nekoliko godina kupio je četri poslovna prostora od ukupno 825 m2, čija današnja tržišna vrijednost iznosi oko 660.000 eura. Pored toga Velizar je prošle godine u Siti kvartu u Podgorici kupio dva stana od po 64 kvadrata vrijedna ukupno 150.000 eura. Osim toga u rodnom mjestu Podbišće posjeduje nasljeđe.
Nije u potpunosti jasno kako je Velizar postao vlasnik vrijednih nepokretnosti u Mojkovcu i Podgorici, s obzirom na njegove skromne prihode. On tvrdi da nema ništa sporno sa njegovom imovinom.
"Moja imovina se zna. Imam dva lokala u Mojkovcu. Možda je u katastru drugačije zavedeno. Koga god da interesuje može da dođe i vidi. Čak i porijeklo novca, nije problem. Ja sam jedan lokal kupio od Mićka Madžgalja iz Bijelog Polja. Taj čovjek je kupovao i prodavao lokale po Crnoj Gori. Drugi lokal sam kupio od države. Javna licitacija je bila, dakle ništa sporno nije bilo", rekao je Marković.
Dodao je da lokale niko nije htio da uzme.
"Što se tiče porijekla novca, radio sam registracije kao agent 90-ih kada je u Srbiji bilo zabranjeno registrovanje vozila, tako da smo mi to radili u Crnoj Gori. Ne bojte se Duško Marković tu mi nije sigurno kupio ništa.  Ja sam najmlađi njegov brat, a vi se raspitajte kako mu žive braća. Braća žive od penzije, a ja od ova dva lokala, pa da ih je i četri, nije neko bogatstvo jer je to Mojkovac. Nemam ništa u Budvi", rekao je Marković. Dodao je da mu vlast nije dala ništa i da ništa nikom nije ukrao.
"Pet godina sam bez posla. Porijeklo novca se zna a ispade da sam kupio cijelu Crnu Goru", kazao je Marković.
Poslovne prostore u centru Mojkovca premijerov brat izdaje Prvoj banci, u kojoj je većinski akcionar brat bivšeg premijera Aco Đukanović i kompaniji "Voli", vlasnika Dragana Bokana. Na pitanje koliko novca zarađuje od zakupa Marković je kazao da se radi o skromnom prihodu.
"Od zakupa samo po 600 eura"
"Vjerujte nema tu nekog novca. To je jedna dobra plata od 500, 600 eura. Toliko zarađujem od zakupa. Ne može u Mojkovcu da se izda lokal kao u Podgorici i Budvi", rekao je on.
Velizar Marković je u Podgorici prošle godine kupio dva stana u Siti kvartu.
Na oba stana u septembru 2016. godine upisana je hipoteka Erste banke zbog kredita od 150.000 eura. Kao korisnik tog kredita vodi se Velizar Marković, a kao dužnik kompanija "Čelebić", vlasnika Tomislava Čelebića.
Iz kompanije "Čelebić" objasnili su da svim kupcima daju mogućnost kao premijerovom bratu.
"Kompanija Čelebić u sklopu svoje poslovne politike daje mogućnost svim kupcima da kupe nekretninu putem kredita do uknjižbe iste (dobijanja posjedovnog lista) i samim tim garantuje banci da će nekretninu završiti u roku. Na današnji dan naša kompanija ne izmiruje bilo kakve obaveze prema bilo kojem kupcu, pa samim tim ni prema imenovanom", saopštila je na pitanje novinara Maja Krstajić Radoman, rukovodilac PR/marketing sektora firme "Čelebić".
U Centralnom registru privrednih subjekata (CRPS) može se vidjeti da je Velizar Marković ovlašćeno lice u aktivnoj firmi "Vele-Kom", registrovanoj 2004. godine, za djelatnost nespecijalizovane trgovine na veliko. Kao osnovač te firme vodi se Velizarova supruga Milena Marković. To nije njena jedina firma – u Podgorici posjeduje "Milena-Kom", koja je registrovana za istu djelatnost 2009. godine.
Na sajtu Poreske uprave može se vidjeti da te firme nisu predavale finansijske izvještaje, tako da su predmet kontrole inspektora, što su potvrdili iz te institucije.
"Poreska uprava prema licima koja u zakonskom roku ne podnesu finansijske iskaze, godišnju prijavu poreza na dobit ili prijavu nekog drugog poreskog oblika, preduzima zakonom propisane mjere. Tako su i kompanije navedene u vašem pitanju predmet inspekcijskog nadzora, prema sačinjenom planu kontrola, a u cilju obezbjeđivanja nepodnijetih finansijskih iskaza i poreskih prijava i utvrđenja činjenica relevantnih za postupak oporezivanja", saopšteno je iz Poreske uprave Crne Gore.
Velizar Marković tvrdi da ne prihoduje ništa od tih firmi.
"Prije nekih 15, 20 godina sam otvorio firmu Vele-Kom i samo je otvorio i nisam je koristio. Potom i Milena-Kom, ali vratio sam pečate. Ne prihodujem ništa od  tih firmi", rekao je Marković.
Ko krije podatke o imovini?
Novinari Mreže za istraživanje organizovanog kriminala i korupcije – Lupa tokom istraživanja imovine porodice Duška Markovića utvrdili su da elektronski katastar Uprave za nekretnine nije u potpunosti pouzdan.
Slučajno ili ne, nakon ukucavanja matičnog broja Velizara Markovića e-katastar pokazuje da on nema ni jednu nekretninu u centru Mojkovca.
Tragom tih podataka kontaktirana je Uprave za nekretnine Crne Gore, kako bi se dobio odgovor da li neko sa namjerom krije tačne podatke o imovini člana porodice premijera Markovića.
"Uprava za nekretnine obezbijedila je on-line pristup podacima katastarskih evidencija u realnom vremenu putem web predlagača, kroz web aplikaciju e-Katastar. Podaci koji su dostupni putem ove aplikacije su replikacije podataka iz baza podataka Područnih jedinica… Molimo Vas za sve eventualne greške da se obratite Područnoj jedinici kako bi dobili adekvatno pojašnjenje", odgovoreno je iz kancelarije Dragana Kovačevića, direktora Uprave za nekretnine.
Bratu nekadašnja imovina preduzeća "Bojna njiva"
Mreža za istraživanje organizovanog kriminala i korupcije – Lupa došla je do podatka da se Opština Mojkovac prije pet godina na osnovu licitacije, kao najbolji ponuđač – a nakon dobijanja saglasnosti Ministarstva finansija – upisala kao vlasnik vrijednih nekretnina nekada moćnog preduzeća DD PTP "Bojna njiva", u kojem je u maju 2007. godine pokrenut stečaj.
Opština Mojkovac vrijednu imovinu platila je 1.332.000 eura. Kao dio imovine Opština je tada dobila između ostalog i nepokretnosti u listovima nepokretnosti 182 i 102 KO Mojkovac, odnosno imovinu u centru Mojkovca.
Od Vlade Crne Gore tražili su dozvolu da predaju u vlasništvo države najveći dio imovine koju su su kupili licitacijom kako bi se namirilo potraživanje države prema DD PTP "Bojna njiva" od 1.183.343 eura.
Ministarstvo finansija dalo je saglasnost na tu transakciju, tako da se država upisala kao vlasnik najvećeg dijela nekretnina koje je kupila Opština Mojkovac.
Interesantno je da je Opština Mojkovac tada državi izbjegla da ponudi i nekretnine iz lista nepokretnosti 182, KO Mojkovac, odnosno građevinsku parcelu od 1.421 m2 i zgradu na njoj. Upravo dva poslovna prostora u prizemlju te zgrade od čak 465 m2 završili su kasnije kao vlasništvo premijerovog brata Velizara Markovića.
Ti poslovni prostori Marković već nekoliko godina daje u zakup firmi "Voli".
Premijerov brat je postao vlasnik još dva poslovna prostora (  247 m2 i 113 m2 ) u jednoj od zgrada u listu nepokretnosti 102, KO Mojkovac, koja je takođe nekada bila u vlasništvu DD PTP "Bojna njiva". Poslovni prostor od 247 m2 već nekoliko godina Marković izdaje Prvoj banci.
Tri brata penzioneri
Osim Velizara Markovića, premijer ima još tri brata – Radoja, Blagoja i Rada Markovića.
Sva tri brata su sada penzioneri i posjeduju nepokretnu imovinu u Crnoj Gori.
Radoje Marković u rodnom kraju Podbišću ima kuću i oko 5.000 kvadrata zemlje, ukupne vrijednosti oko 115.000 eura.
Na te nekretnine upisana je hipoteka zbog kredita od 31.000 eura, koji je Marković uzeo kod CKB banke. Pored te imovine posjeduje i stan od 38 kvadrata u Podgorici, koji je stekao kupovinom. Vrijednost tog stana procjenjuje se na 35.000 eura.
Blagoje Marković ima nekretnosti u Mojkovcu i Kolašinu. Radi se o nasljeđu u mjestu Podbišće, koje je vrijedno ukupno oko 155.000 eura.
Četvrti brat premijera Rade Marković takođe ima nekretnine u rodnom Podbišću. Radi se o imovini (kuća, livada, put) od oko 3.700 m2, koja je vrijedna oko  85.000 eura.
Na toj imovini postoji teret zbog kredita od 31.231 eura, koji je Rade Marković još 2007. godine uzeo kod nekada Hypo Alpe Adria banke.
Autor: Vladimir Otašević